Hello Readers, If you participated in NABTEB GCE examination for the year 2023/2024 and you want to check your result then this post is definitely published for you. Below are the guidelines to follow to check your NABTEB GCE result. You can check it yourself without going to any cyber cafe, all you need is a mobile phone or PC with an internet connection.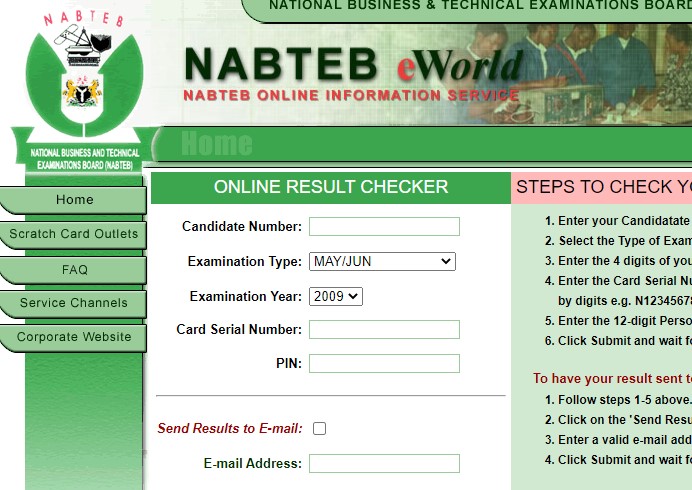 This is to inform the general public that the board conducting the NABTEB GCE examination has successfully uploaded the result of the examination on their official portal which is www.eworld.nabteb.com, all candidates that participate in the exam can now visit their portal to check his/her result.
How to Check NABTEB GCE Result 2023/2024 Online
Go to NABTEB result checking portal @ http://eworld.nabteb.gov.ng
Enter your Candidate Identification Number e.g. 38001178
Select the Type of Examination
Enter the 4 digits of your Examination Year e.g. 2002
Enter the Card Serial Number found on the reverse side of your Scratch card. The Card Serial Number has an alphabet prefix followed by digits e.g. N123456789
Enter the 12-digit Personal Identification Number (PIN) on your Scratch card eg. 012345678912
Click Submit and wait for the results window to come up
To have your result sent to your e-mail address, do the followings:
Follow steps 1-5 above.
Click on the 'Send Results to E-mail' box
Enter a valid e-mail address e.g. segun@yahoo.com
Click Submit and wait for the results window to come up.
How to Check NABTEB GCE Result via SMS
Send SMS in the format below:
NABTEB*ExamNo*PIN*ExamType*ExamYear To short-code 32327
For example: To check for May/June results, NABTEB*01001001*123456789012*MJ*2023
To check for Nov/Dec results, NABTEB*01001001*123456789012*ND*2023
Note: Ensure you adhere strictly to the format above. There should be no space in the message.
Wait for your result to be delivered to your mobile phone via sms.
You Must Not:
Do not use a card that has already been used for another candidate
Do not enter an invalid e-mail address for the result to be sent as this will penalize you by deducting your card use
IF YOU FIND THIS ARTICLE HELPFUL SOMEONE MIGHT ALSO NEED IT SO DON'T HESITATE TO SHARE.
THANKS FOR VISITING NEWSEDUNG, LEAVE A COMMENT BEFORE CLOSING THE TAB.