Hello Readers, This post is all about NECO Result Checker. If you are looking for the easiest way to check your Senior Secondary School Examination Result conducted by the National Examination Council, then you are on the right page. Below are the steps to follow to check your NECO Result.
Update: NECO Result 2023/2024 has not been released, bookmark this page to get first hand information.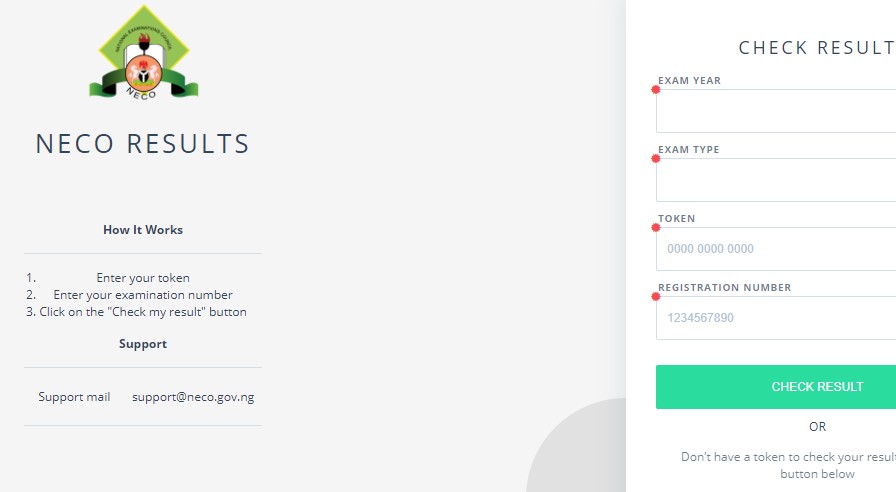 This is to inform all candidates that participate in the just concluded National Examination Council NECO 2023 that the board conducting this examination has successfully uploaded the result on their official portal which is www.mynecoexam.com, all candidates that partake in the examination can now visit the Neco portal to check there result.
Neco 2023 Result Token
Candidates are advised to get the National Examinations Council (NECO) result checker card which goes for N300 (three hundred naira only) to access their results. You may pay above the official rate if you are getting it outside NECO offices. After getting the result token that contains the PIN Number you need to check your result, you can then follow the six (6) simple steps below to access your NECO Result.
Recommended: Buy NECO Result Token Online
How To Check NECO Result 2023 Online
Go to NECO result-checking portal at https://result.neco.gov.ng/.
Select year Examination Type (i.e. June.July).
Select the year of examination (i.e 2023).
Enter your card PIN number (the PIN on the NECO Result Card).
Enter your Examination Number
Finally, click on "Check My Result" button to finally see your result.
Information To Be Release Along With The Neco Result.
The board conducting this NECO examination will also release the detail/statistics of the examination which are:
The total number of candidate that registers for the exam
The total number of candidates that sat for the exam
Candidates that have the highest grade
Total Number of Candidate that passes the examination in percentage (%)
Total Number of candidate that fails the examination in percentage (%)
IF YOU FIND THIS ARTICLE HELPFUL SOMEONE MIGHT ALSO NEED IT SO DON'T HESITATE TO SHARE.
THANKS FOR VISITING NEWSEDUNG, LEAVE A COMMENT BEFORE CLOSING THE TAB.