Hello Readers, In the article, I would like to share with you the official website of the University of Ibadan (UI Portal) and its benefits, I will also like to do justice to searches like Unibadan Student Portal, UI Result Portal / Checker, UI Post UTME portal, Postgraduate Portal and many more, but before that let's do some introduction.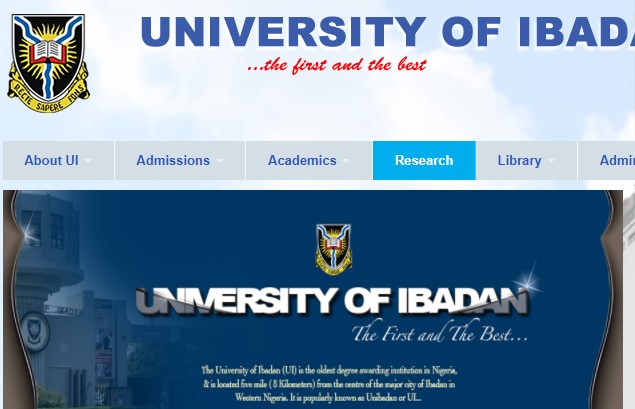 The University is Ibadan (UI) is established in 1948 and is the first University in Nigeria. Until 1962 when it became a full-fledged independent University, it was a College of the University of London in a special relationship scheme. The University, which took off with academic programs in Arts, Science, and Medicine, is now a comprehensive citadel of learning with academic programs in sixteen Faculties
University of Ibadan's vision is to be a world-class institution for academic excellence geared towards meeting societal needs and its mission is to expand the frontiers of knowledge through the provision of excellent conditions for learning and research, to produce graduates who are worthy in character and sound judgment, to contribute to the transformation of society through creativity and innovation and to serve as a dynamic custodian of society's salutary values and thus sustain its integrity.
RECOMMENDED LINKS
List of University of Ibadan (UI) Portal / Website
Below are the lists of domains registered by the University of Ibadan for easy communication from the institution management to the public.
WWW.UI.EDU.NG: This portal is created as the powerhouse of the University of Ibadan, this is where all the latest news and information is been passed across to the public for easy access. The website contains pages like the About Us, and Contact Us pages. It also links to the Postgraduate, Staff, Visitor, Alumni portal, and more
WWW.PORTAL.EDU.NG: This is the University of Ibadan student portal, it is where newly admitted student and returning student can access their student profile after they input their Username and Password in the required column. However, On this portal admitted candidates can make payments, course registration, check their semsters result, and many more.
WWW.ADMISSION.UI.EDU.NG: As admitted candidate has their own portal, those looking forward of gaining admission into the University of Ibadan has their own portal for registration as well, This portal is where UI aspirant both UTME or DE enter their bio information and credentials.
UNIVERSITY OF IBADAN OTHER PORTAL
PGSCHOOL.UI.EDU.NG: University of Ibadan Postgraduate website
DLU.UI.EDU.NG: University of Ibadan Distance Learning Center.
How to Check UI Post UTME Result
The Post-UTME Screening scores will be sent via text messages and e-mails to each candidate. However, it can also be accessible by following the procedure outlined below:
Go to UI admission portal @ http://admissions.ui.edu.ng/
Log in to the portal using your Jamb Registration Number as USERNAME and Surname as PASSWORD.
Once you are granted access, your post utme screening score will be right on the admission page if the result has been released by the university management.
How to Pay Tuition / School Fees on University of Ibadan Portal
For all Freshers to view their details
Click on New Students Login
Enter JAMB REGSTRATION Number
Click on LOGIN
For all Returning/Freshers to commence registration
Click on Existing Students Login
Enter Matric Number
Enter password
Click on LOGIN
PAYMENT STEP:
You are required to log in to your portal account FIRST
Once you are logged in, the portal opens with the default FEE PAYMENT page in view.
Click on PAY YOUR FEES at the top right corner of that page.
Select the fee type by checking the box against your preferred fee type and click on Add Selected Items to my Fees List and further click on proceed.
Once the page refreshes, check the box against "Remita" and click on Post Now
Your fee statement appears. Please NOTE AND COPY out the Reference Number
Click on Proceed to the gateway and wait for the page to refresh.
University of Ibadan Course

Registration Guidelines 
The registration process is completely online
Contact your course level Adviser for inquiries on courses
Log in again to the portal after registration to confirm approval of registered courses
You can only Register for Courses after Successful Payment of Fees
Check your institutional email for instructions on how to proceed to Lectures
Visit your departmental page on the University website www.ui.edu.ng for  additional information
How to Pay for University of Ibadan Accommodation / Hostel Fee on UI Website
Visit the U.I. student Portal @ www.portal.ui.edu.ng
Type in your JAMB Registration Number at 'NEW STUDENTS SHOULD CLICK HERE TO LOGIN' to view your Matriculation Number, Hall of Residence, and personalized email.
Follow the link on the same page to "apply for hostel accommodation by clicking here". This will allow you to apply for accommodation and you have the option of selecting your desired room.
Use your login parameters i.e. Matriculation Number and password
Read the terms and conditions, then scroll down to the bottom of the page and click on "I Agree ".
A Fee Payment web page will be displayed, click on "Pay your fee" (on the top right corner of the page) to select your fee items.
Click on "Add Selected Items to my Pay list" Select the fee items that you want to pay for; e.g. Bundled (Ges/School levy).
Eligible first-year and Final year student should select Accommodation levy in addition
Click on "Proceed" and wait for the confirmation page.
IF YOU FIND THIS ARTICLE HELPFUL SOMEONE MIGHT ALSO NEED IT SO DON'T HESITATE TO SHARE.
THANKS FOR VISITING NEWSEDUNG, LEAVE A COMMENT BEFORE CLOSING THE TAB.