Hello Readers, In the article, I would like to share with you the official website of the University of Nigeria, Nsukka (UNN Portal) and its benefits, I will also like to do justice to searches like UNN Student Portal, UNN Result Portal / Checker, UNN Post UTME portal, Postgraduate Portal and many more, but before that let's do some introduction.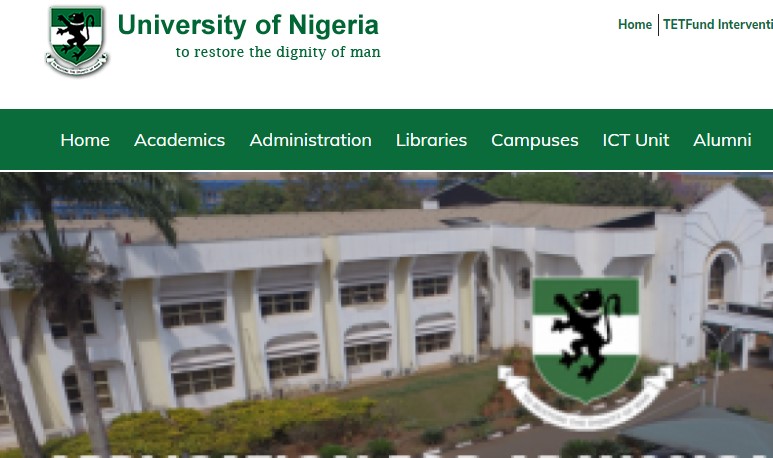 The University of Nigeria, commonly referred to as UNN, is a federal university located in Nsukka, Enugu State, Nigeria. It was founded by Nnamdi Azikiwe in 1955 with a mission to place the university at the forefront of research and the development, innovation, knowledge transfer, and human resources development in the global academic terrain, while promoting the core values which will ensure the restoration of the dignity of man.
The vision of the school is to create a functional, globally competitive, and research-focused university which is not just an Ivory Tower but responsive to the needs of the society while delivering world-class education and knowledge.
RECOMMENDED ARTICLES
List of University of Nigeria, Nsukka (UNN) Portal / Website
Below are the lists of domains registered by the University of Nigeria, Nsukka for easy communication from the institution management to the public.
WWW.UNN.EDU.NG: This portal is created as the powerhouse of the University of Nigeria, Nsukka, this is where all the latest news and information is been passed across to the public for easy access. The website contains pages like the About Us, and Contact Us pages. It also links to the Postgraduate, Staff, Visitor, Alumni portal, and more.
WWW.UNNPORT@L.EDU.NG: This is the University of Nigeria, Nsukka student portal, it is where newly admitted student and returning student can access their student profile after they input their Username and Password in the required column. However, On this portal admitted candidates can make payments, course registration, check their semester results, and many more.
WWW.UNNPORT@L.UNN.EDU.NG: As admitted candidate has their own portal, those looking forward of gaining admission into the University of Nigeria, Nsukka has their own portal for registration as well, This portal is where UNN Undergraduate enters their bio information and credentials.
WWW.SPG.UNN.EDU.NG: This URL is created for the University of Nigeria, Nsukka Postgraduate student.
How to Create University of Nigeria Nsukka (UNN) Student Portal
Step One: Confirm your Details on Portal
Visit UNN Portal via (unnportal.unn.edu.ng).
Click on Undergraduate students and click signup.
On the page that will display, choose "New Student", enter your JAMB Reg. Number and RR Number (the one you used during post utme registration) and click on "Submit".
Your login details will display.
Step Two: Create a New Password and Complete your Student Profile
The revisit UNN portal via (unnportal.unn.edu.ng) and enter that your login credentials and click "LOGIN".
Change your Password by entering "old password", "new password", and confirm the new password.
Under Profile, Locate "student Profile details". Update your Biodata. and click SUBMIT.
Your welcome page will show. If it does, move to the next step. unn student dashboard welcome page
University of Nigeria Nsukka (UNN) Acceptance Payment Procedure
Login to UNN Student portal
From the menu items on the left, click on the drop-down button on "ACCEPTANCE" as shown above, to see the next screen as shown below. Observe the dropdown menu under "ACCEPTANCE".
Click on "Get acceptance invoice", as shown above. When the page loads successfully, choose 100level (for UTME) or 200level (for Direct entry-level" and click on generate. The page below will display. Write down your Remita Retrieval Reference (RRR) Number.
Scroll down and click on "Click here to pay with your ATM/Web pay". Enter your ATM card details. If you are using Visa card, make sure you have your Visa iPin. Once the payment is successful, re-do steps 1-3. You will see the page below.
Click on "Pay  Acceptance Fees", as shown above, the screen below will appear.
Remember, you are to take note of your RRR number, It's time to use it. Enter the RRR number as shown above choose session and click on submit (as shown above). Your Acceptance fees receipt will appear.
Print out the receipt.
IF YOU FIND THIS ARTICLE HELPFUL SOMEONE MIGHT ALSO NEED IT SO DON'T HESITATE TO SHARE.
THANKS FOR VISITING NEWSEDUNG, LEAVE A COMMENT BEFORE CLOSING THE TAB.