Hello Readers, In the article, I would like to share with you the official website of the Gombe State University (GSU Portal) and its benefits, I will also like to do justice to searches like GSU Student Portal, GSU Result Portal / Checker, GSU Post UTME portal, Postgraduate Portal and many more, but before that let's do some introduction.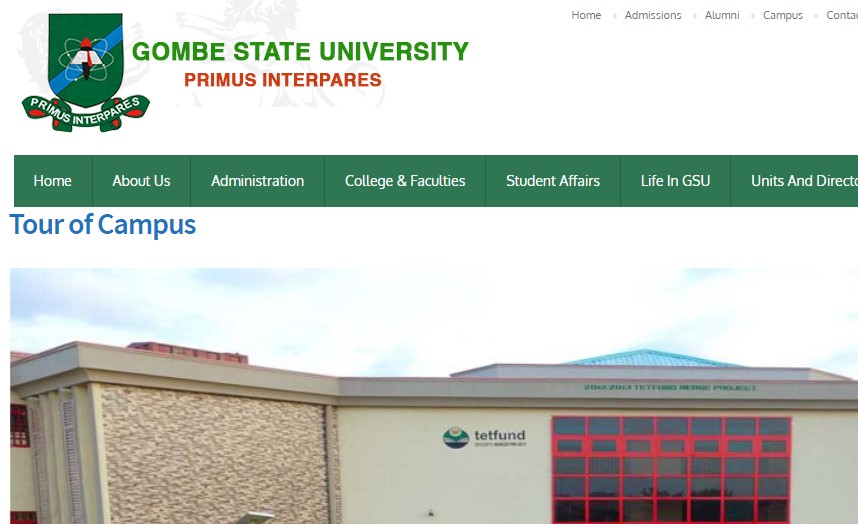 Gombe State University is a state government-owned university in Nigeria. It was established in 2004 with a mission to provide opportunities for high-quality University Education through the creation of an enabling environment, where teachers and students can excel in teaching, research, and learning. In this regard, the University shall continue to train and retrain its staff, in order to acquire more skills, knowledge, and values for self-development and the advancement of the larger society.
RECOMMENDED ARTICLES
List of Gombe State University (GSU) Portal / Website
Below are the lists of domains registered by the Gombe State University for easy communication from the institution management to the public.
WWW.GSU.EDU.NG: This portal is created as the powerhouse of the Gombe State University, this is where all the latest news and information is been passed across to the public for easy access. The website contains pages like the About Us, and Contact Us pages. It also links to the Postgraduate, Staff, Visitor, Alumni portal, and more.
WWW.BRIATEKSMS.COM/myportal: This is the Gombe State University student portal, it is where newly admitted student and returning student can access their student profile after they input their Username and Password in the required column. However, On this portal admitted candidates can make payments, course registration, check their semester results, and many more.
WWW.BRIATEKSMS.COM/myportal: As admitted candidate has their own portal, those looking forward of gaining admission into the Gombe State University has their own portal for registration as well, This portal is where GSU Undergraduate enters their bio information and credentials.
Gombo State University Tuition Fee & Course Registration Procedure
Visit the University website www.gsu.edu.ng
Click on the "Registration" link and select "Undergraduate".
Use your JAMB No. as your "username" and "gsu2023" as your default password in the login request region.
Once you successfully log in, you are required to COMPLETE your personal PROFILE information.
Afterward, click on the "Pay Registration Fee" link, and select the PAY option of your choice e.g Bank Branch or online payment.
After you have successfully made your payment, go back to the third STEP above, to access your Registration details Form (CAUTION: print the form or note the details of the form, for further action in STEP seven below).
You can now use the NEW Registration No. you obtained in STEP 6.0 above as your "username" and the default password "gsu2023", as your password to log in again and change the default password.
Once you have successfully logged into your personal page again, click on the "Courses Registration" link to register your Courses.
IF YOU FIND THIS ARTICLE HELPFUL SOMEONE MIGHT ALSO NEED IT SO DON'T HESITATE TO SHARE.
THANKS FOR VISITING NEWSEDUNG, LEAVE A COMMENT BEFORE CLOSING THE TAB.