In this article, I will like to elaborate more about the Adamawa State University (ADSU) cut-off mark 2023/2024. If you've been searching for the Adamawa State University Jamb cut-off mark or its departmental aggregate then I guess u are on the right page. This is to inform the general public that the management of the institution has announced the 2023/2024 cut-off mark.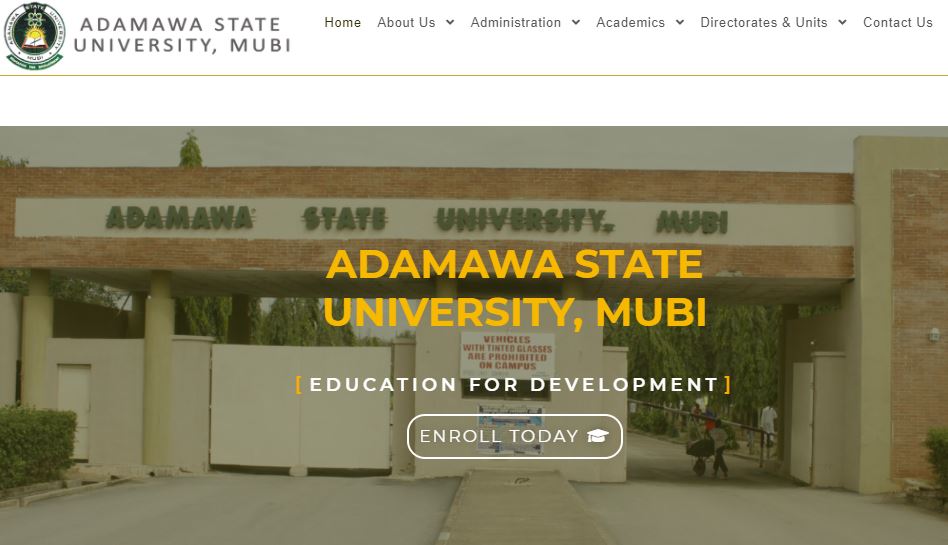 This cut-off mark is for those that chose ADSU as their first choice in the last Unified Tertiary Matriculation Examination (UTME) and those who didn't choose the school but were willing to apply for a change of institution. Also, This article will help students preparing for the upcoming JAMB & POST UTME examination to know the minimum score expected of them to have before processing admission.
RECOMMENDED LINK:
Adamawa State University (ADSU) Jamb Cut Off Mark 2023/2024
The Adamawa State University Jamb cut-off mark is the general cut-off mark set as a benchmark for all courses offered in the institution. ADSU Jamb's cut-off mark for the 2023/2024 academic session is 160, so for a student to register for the Adamawa State University POST UTME he or she must score nothing less than 160 in the concluded JAMB examination. However, Due to high competition, it's advisable to score more than the required cut-off mark to boost your chances of gaining admission into the university.
FACULTY OF AGRICULTURE
Agric Economics & Extension -160
Animal Production -160
Crop Science -160
Fisheries & Aquaculture -160
FACULTY OF ARTS
English -160
History -160
FACULTY OF EDUCATION
Math Education -160
Chemistry Education -160
Physics Education -160
Biology Education -160
Geography Education -160
Economics Education -160
Agricultural Education -160
Primary Education -160
Early Childhood Education -160
Home Economics Education -160
Guidance & Counselling Educ -160
Computer Science Education -170
FACULTY OF SCIENCE
Botany -160
Biochemistry -180
Chemistry -170
Geography -160
Computer Science -180
Industrial Chemistry -170
Geology -180
Microbiology -180
Mathematics -160
Physics -160
Zoology -160
FACULTY OF SOCIAL AND MANAGEMENT SCIENCES
Accounting –160
Business Administration -170
Economics -160
Political Science -170
Taxation -160
Banking and Finance -160
Mass Communication -180
Marketing -160
Sociology -170
Public Administration -170
FACULTY OF LAW
Catchment/Merits 170 and above, others 180 and above.
DIRECT ENTRY CANDIDATES:
HND/ND – Distinction/Upper Credit – 200 Level
ND/OND/ University Diploma – Lower Credit 100 Level.
IJMB 6 points and above – 200 Level
N.C.E. 9 points and above – 200 Level
Educationally Disadvantaged L.G.A 160 for all the programmes:
a. Fufore
b. Ganye
c. Girei
d. Jada
e. Maiha
f. Shelleng
g. Toungo
h. Mayo-Belwa
Adamawa State University Cut Off Mark For All Courses 2023/2024
Adamawa State University's departmental cut-off mark is the official benchmark score set to process admission for each course. This cut-off mark is decided by the management of each faculty after the successful conclusion of the institution's POST UTM Examination. Meanwhile, The mark is determined by the performance of students after the examination or screening. Candidates should note that not all school releases cut off mark to process admission after the conclusion of Post utme examination or screening.
This article will be updated once the management of the Adamawa State University (ADSU) releases the cut-off mark that will be used in processing 2023/2024 admission.
How To Calculate ADSU Aggregate/Screening Score
Every aspirant candidate that participated in the Adamawa State University Post Utme / Screening must know how to calculate their aggregate score for confirmation. Follow the simple steps below to calculate your screening score
Divide your JAMB score by 8
Divide your post utme score by 2
After which you add both of them together.
For example; You score 300 in JAMB and 80 in post utme that means;
300/8 = 37.5
80/2 = 40
i.e 37.5 + 40 = 77.5
However, some institutions only use post utme result to admit candidates while some use O'level and Jamb result to determine student screening result. Click here to read more about aggregate score calculation.
IF YOU FIND THIS ARTICLE HELPFUL SOMEONE MIGHT ALSO NEED IT SO DON'T HESITATE TO SHARE.
THANKS FOR VISITING NEWSEDUNG, LEAVE A COMMENT BEFORE CLOSING THE TAB.