In this article, I will like to elaborate more about the University of Calabar (UNICAL) cut-off mark 2023/2024. If you've been searching for the University of Calabar Jamb cut-off mark or its departmental aggregate then I guess u are on the right page. This is to inform the general public that the management of the institution has announced the 2023/2024 cut-off mark.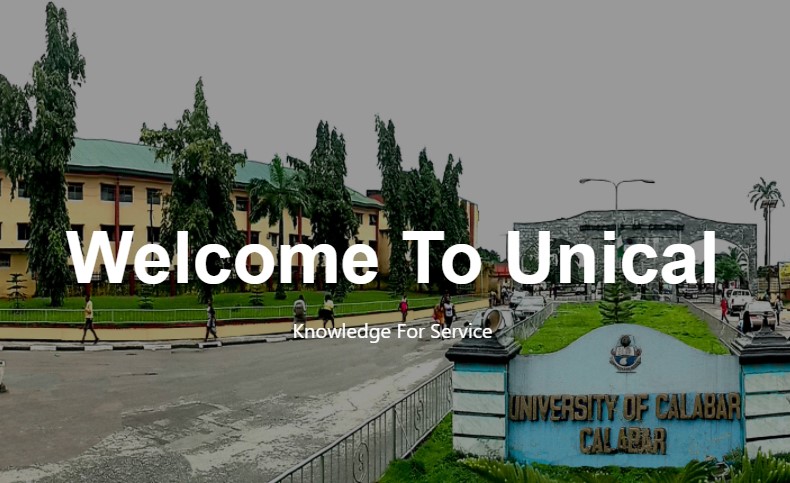 This cut-off mark is for those that chose UNICAL as their first choice in the last Unified Tertiary Matriculation Examination (UTME) and those who didn't choose the school but were willing to apply for a change of institution. Please note that the University of Calabar does not accept second choice. Also, This article will help students preparing for the upcoming JAMB & POST UTME examination to know the minimum score expected of them to have before processing admission.
RECOMMENDED LINK
University of Calabar (UNICAL) JAMB Cut Off Mark 2023/2024
The University of Calabar Jamb cut-off mark is the general cut-off mark set as a benchmark for all courses offered in the institution. UNICAL Jamb's cut-off mark for the 2023/2024 academic session is 140, so for a student to register for the University of Calabar POST UTME he or she must score nothing less than 140 in the concluded JAMB examination. However, Due to high competition, it's advisable to score more than the required cut-off mark to boost your chances of gaining admission into the university.
University of Calabar Cut Off Mark for All Courses 2023/2024
University of Calabar departmental cut-off mark is the official benchmark score set to process admission for each course. This cut-off mark is decided by the management of each faculty after the successful conclusion of the institution's POST UTM Examination. Meanwhile, The mark is determined by the performance of students after the examination or screening. Candidates should note that not all school releases cut off mark to process admission after the conclusion of Post utme examination or screening.
The cut-off marks we have now are:
Medicine and Surgery >>>> 292
Dentistry >>>> 260.5
Nursing >>>> 266
Medical Laboratory >>>> 252
Law >>>> 276
Library and Information science >>>> 151
Theatre arts >>>> 228
Public health >>>> 236
Radiography >>>> 256
Economics >>>> 232.5
Political science >>>> 232
Sociology >>>> 224
Public admin >>>> 232
Biochemistry >>>> 232
Accounting >>>> 240
Business education >>>> 151.5
Business management >>>> 232
History and international studies >>>> 244
Computer science >>>> 212
Policy and administrative studies >>>> 166.5
Genetics and biotechnology >>>> 197
Microbiology >>>> 220
Human physiology >>>> 216
Human anatomy >>>> 212
Banking and finance >>>> 212
Electronics and computer technology >>>> 184
English and literary studies >>>> 240
Linguistics and communication studies >>>> 232
Education and economics >>>> 142
Education and English >>>> 208
Education and biology >>>> 188
Education management and planning >>>> 204.5
Adult education >>>> 138
Education and mathematics >>>> 137
Education and physics >>>> 142
Education and religious studies >>>> 140
Education and chemistry >>>> 139.5
Education and French >>>> 133
Education and geography >>>> 136
Education and history >>>> 140
Education and political science >>>> 192
Education and social science >>>> 149.5
Linguistics >>>> 200.5
Geology >>>> 151
Geography and environmental science >>>> 166
Tourism studies >>>> 188
Science lab. Tech >>>> 184
How To Calculate UNICAL Aggregate/Screening Score
Every aspirant candidate that participated in the University of Calabar Post Utme / Screening must know how to calculate their aggregate score for confirmation. Follow the simple steps below to calculate your screening score
Divide your JAMB score by 8
Divide your post utme score by 2
After which you add both of them together.
For example; You score 300 in JAMB and 80 in post utme that means;
300/8 = 37.5
80/2 = 40
i.e 37.5 + 40 = 77.5
However, some institutions only use post utme result to admit candidates while some use O'level and Jamb result to determine student screening result. Click here to read more about aggregate score calculation.
IF YOU FIND THIS ARTICLE HELPFUL SOMEONE MIGHT ALSO NEED IT SO DON'T HESITATE TO SHARE.
THANKS FOR VISITING NEWSEDUNG, LEAVE A COMMENT BEFORE CLOSING THE TAB